The Mobility Open Blockchain Initiative (MOBI), a consortium that includes automakers like Ford, BMW, Honda, and GM, has been working on a vehicle and parts tracking initiative. Its Vehicle Identity (VID) Standard initiative provides "birth certificates" for vehicles, tracing maintenance history and vehicle registration even across borders in a shared ledger.
---
CLAIMS MANAGEMENT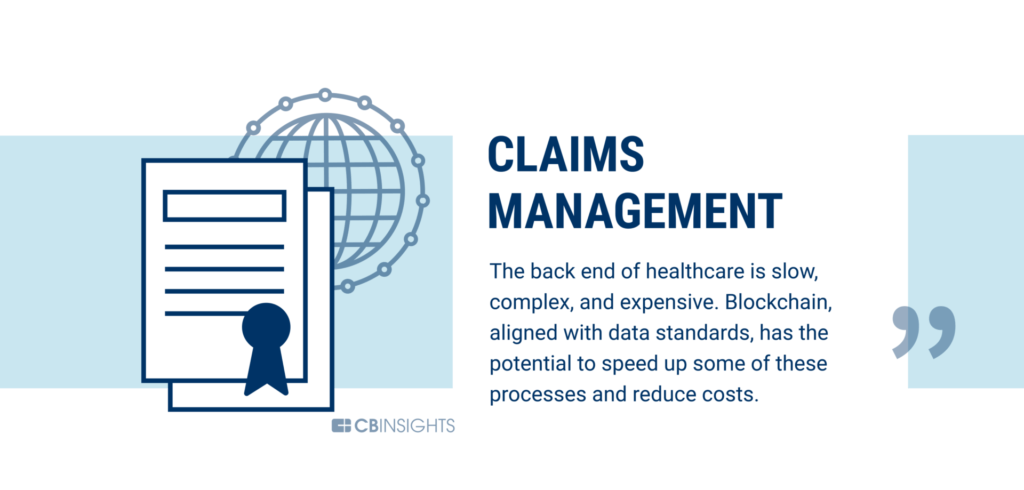 The back end of healthcare is slow, complex, and expensive. Blockchain, aligned with data standards, has the potential to speed up some of these processes and reduce costs.
One area where this might be possible is in claims management, where several middlemen are focused on standardizing data, following complex and variable procedures. A lot of this work requires accessing complex data from different entities: Payers have to know what services a patient received and the patient's specific plan. Doctors need to know how much to charge a patient. And everyone wants to know where in its lifecycle a claim currently is.
Change Healthcare, for example, has built a system, called Intelligent Healthcare Network, that follows the life cycle of a claim, tracking every transaction listed above (data submitted for review, the review itself, approval or denial, etc.) The company has also improved the speed and scalability of processing transactions, which has been a bottleneck in many public blockchain projects.
Change Healthcare says it facilitates up to 50M transactions daily on the network, at 550 transactions per second on average.
---
LIBRARIES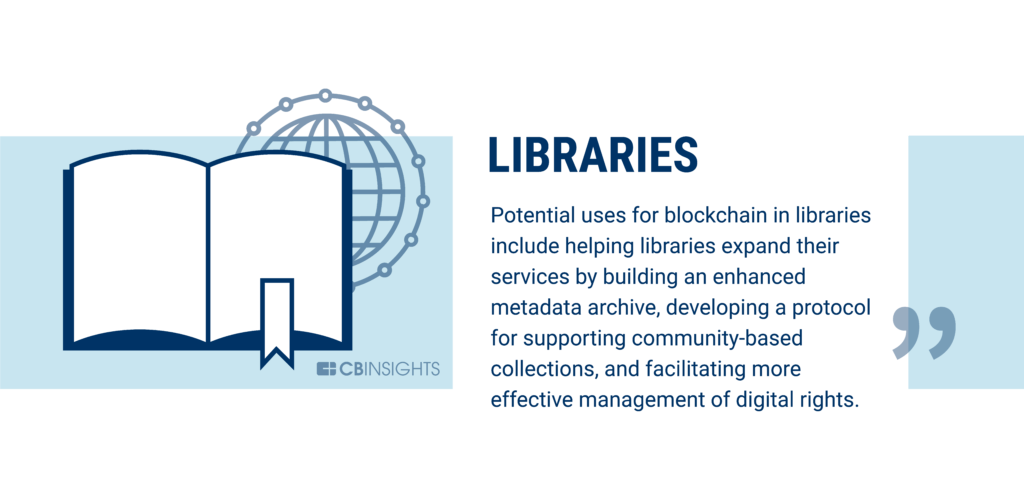 In December 2017, San José State University's School of Information received a $100K grant from the Institute of Museum and Library Services to fund a year-long project exploring the potential of blockchain technology for information services.
So far, the potential uses for blockchain in libraries include helping libraries expand their services by building an enhanced metadata archive, developing a protocol for supporting community-based collections, and facilitating more effective management of digital rights.
Sandra Hirsh and Susan Alman's work at SJSU caught the attention of the American Library Association's Center for the Future of Libraries. They worked with the ALA on a book project involving case studies of how blockchain is affecting libraries and what will be accomplished in the future. In November 2019, the book was published.
---
Entertainment
MUSIC/ENTERTAINMENT RIGHTS & IP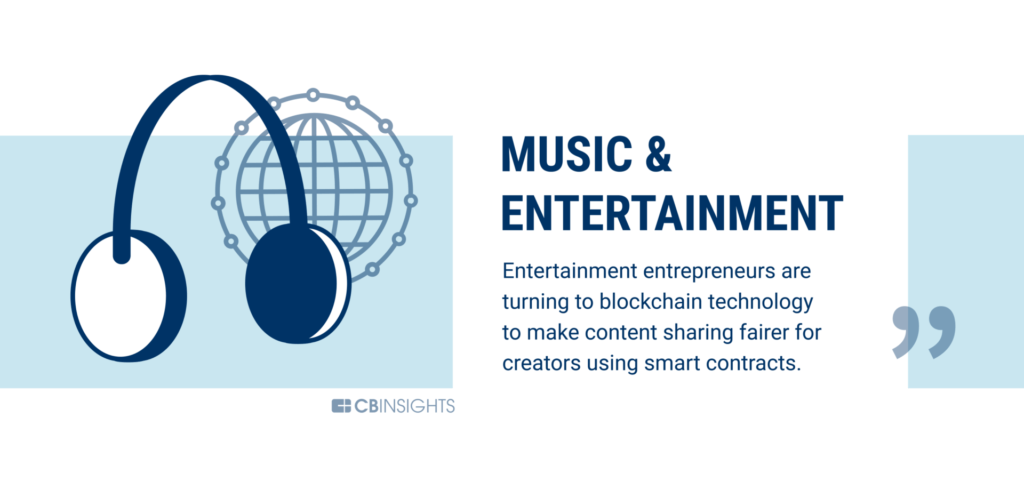 Entertainment entrepreneurs are turning to blockchain technology to make content sharing fairer for creators using smart contracts, whereby the revenue on purchases of creative work can be automatically disseminated according to pre-determined licensing agreements.
Muzika, a blockchain-based music streaming platform, partnered with Binance, a crypto-exchange network, to try to help independent artists make money from their listeners. Muzika has stated that it plans to give 90% of revenue to the artists.
In 2017, Spotify acquired blockchain startup Mediachain, which had been developing a "decentralized media library," to better identify the rights holders of songs on Spotify's platform for royalties payments.
UK-based blockchain startup JAAK also has plans to work with music rights holders and other entertainment industry stakeholders. JAAK, which provides an operating system for content, is developing a platform that allows media owners to convert their repository of media, metadata, and rights into "smart content" that can self-execute licensing transactions on the Ethereum blockchain.
---
VIDEO STREAMING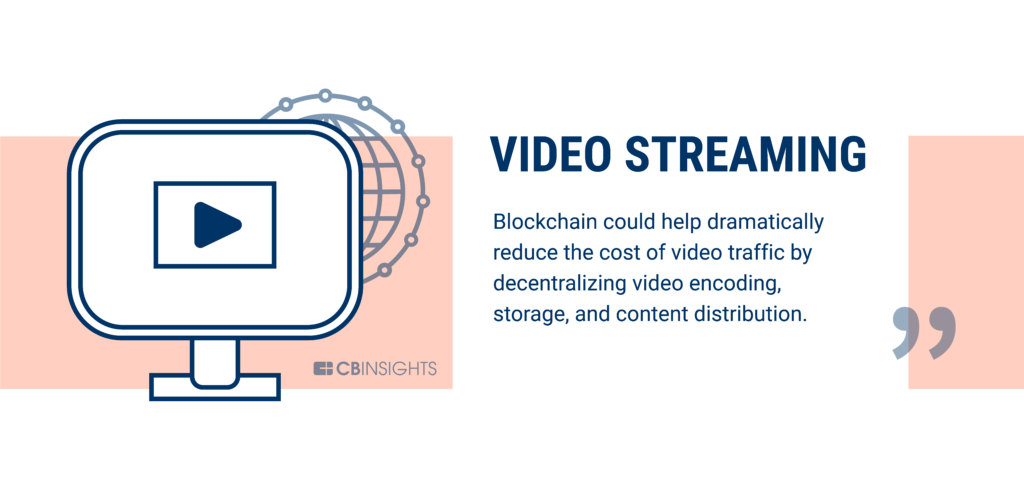 Blockchain could help dramatically reduce the cost of video traffic by decentralizing video encoding, storage, and content distribution. This could disrupt Netflix, YouTube, and other players in the video distribution ecosystem.
The VideoCoin Network is already working toward freeing up this capital. The decentralized network provides cloud video infrastructure — encoding, storage, and distribution — in the form of a peer-to-peer algorithmic market. It runs on a new blockchain where clients spend VideoCoins to rent these services.
Livepeer is another decentralized network, built on the Ethereum blockchain, that allows users to share live videos with their peers. Users can earn Livepeer Tokens by performing video transcoding.
---
GAMING

Online gaming continues to see expansive growth and is now considered a competitive sport, with coveted titles to win, major cash prizes, and even a black market.
Blockchain technology enables gamers to have a more even playing field for competing, getting rewarded, and exchanging assets across digital universes. Through blockchain, digital tokens can be securely exchanged for cryptocurrency without third-party investment.
Through a blockchain's distributed ledger, gamers can use one perfected character or set of skills and items across digital worlds. This means they can earn rewards more quickly, then exchange them through one decentralized source.
These opportunities have already popped up. The Huntercoin project, launched in 2014 and delisted in 2019, was a gaming ecosystem in which players earned in-house cryptocurrency rewards (in this case, HUC coin). For eSports and sports betting, there was UnikoinGold until it was retired in 2020 due to regulatory constraints. Enjin Coin, an Ethereum-based cryptocurrency, backs over 1B digital assets in games stored on a blockchain that can be traded and sold between users. With a decentralized blockchain base, gaming platforms can facilitate more secure and transparent money exchanges.
---
SPORTS MANAGEMENT
Investing in athletes has generally been the purview of sports management agencies and corporations, but blockchain could decentralize the process of funding athletes by democratizing fans' ability to have a financial stake in the future of tomorrow's sports stars.
The concept of using the blockchain to invest in athletes (and earn returns) has not been tried on any significant scale. Yet at least one organization, The Jetcoin Institute, has promoted the idea of fans using cybercurrency — in this case, "Jetcoins" — to invest in their favorite athletes and receive small a portion of the athlete's future earnings (as well as VIP events, seat upgrades, and so on).
Jetcoin has experimented with this approach in a partnership with the Hellas Verona soccer team in Italy, among others.
---
GAMBLING

Online gambling has seen significant growth over the past few years. But some of its core issues — namely a huge gap in transparency — haven't yet been solved.
Introducing blockchain technology can help establish transparency and build trust between a business and its consumers. The technology helps ensure fair games: records can't be manipulated on the ledger, so there's no such thing as "the house always wins." Sites like Wagerr play on the idea of "trustless betting," meaning that the system is so decentralized, you don't need trust.
Decentralization makes gambling more universally accessible and reliably balances costs for online casinos. Plus, it enables some level anonymity, which is important for many gamblers. Sites that require too much documentation and verification hinder people from playing and could be seen as good targets for hackers.
---
Art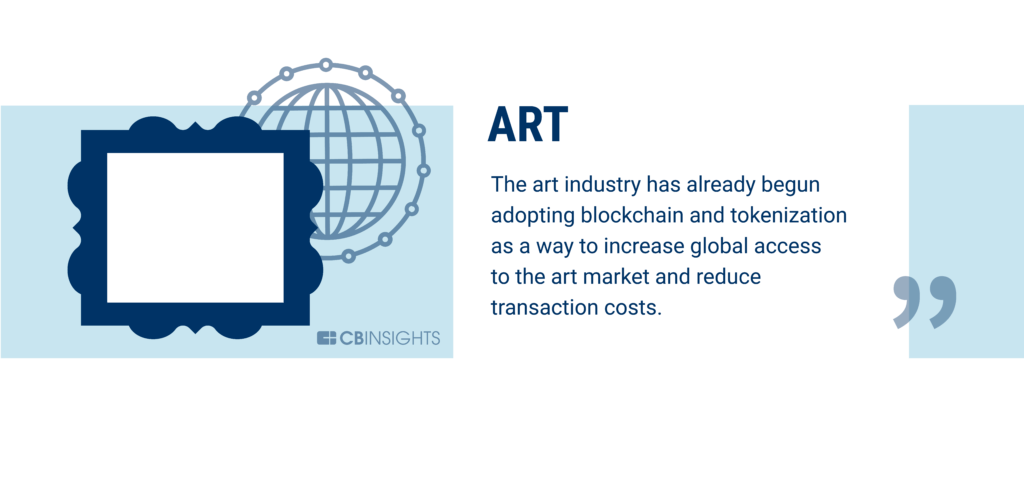 The art industry has already begun adopting blockchain and tokenization as a way to increase global access to the art market and reduce transaction costs.
In July 2018, London gallery Dadiani Fine Art partnered with art investment blockchain platform Maecenas to sell fractional stakes in Andy Warhol's "14 Electric Chairs." The auction was run using a smart contract on the Ethereum network.
Another example is blockchain company Artory, which offers a public registry to track histories, provenance, and archival material for art pieces. It raised $7.3M in its Series A funding round in April 2019 from 2020 Ventures and Hasso Plattner Capital.
In the digital art world, nonfungible tokens, or NFTs, are being used to certify the ownership of individual works of art. For example, the artist Beeple uses NFTs, which are based on blockchain tech, to create a unique signature for each piece of art he sells, enabling him to track each work, earn royalty payments, and avoid forgeries.
---
PHOTOGRAPHY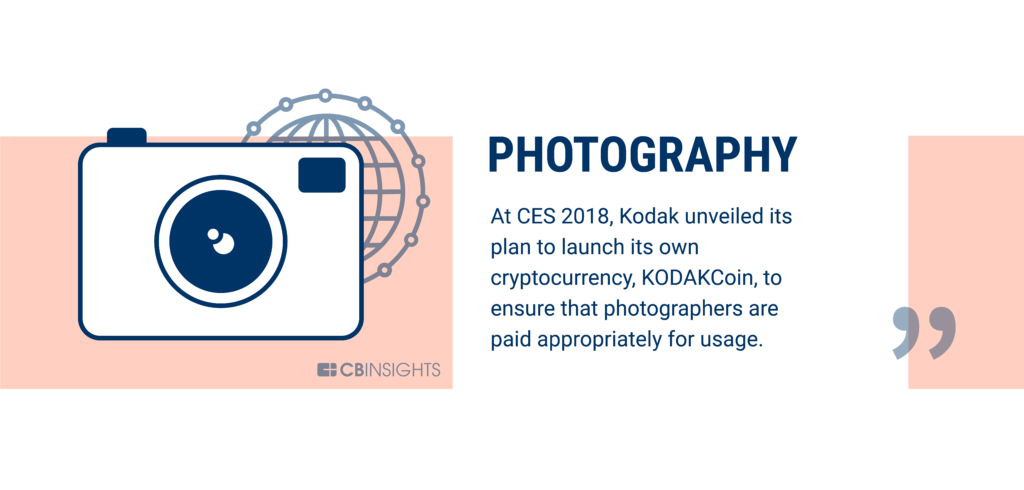 In our digital world where image theft is often a two-click process, photographers can have a difficult time getting paid royalties for their work.
YouPic is developing a "decentralized photography platform" where photographers can securely register and license their images using smart contracts. Through the platform, photographers can get paid by customers directly, avoiding the need for brokers and their commissions.
Photochain uses blockchain tech to store licensing and copyright information for stock images related to the medical and science industries. The company claims to charge photographers a commission lower than that of the rest of the industry while enabling content providers to "have full control over the price, copyright and licensing of their images" for sale on the company's platform.
---
Other
CLOUD Computing & STORAGE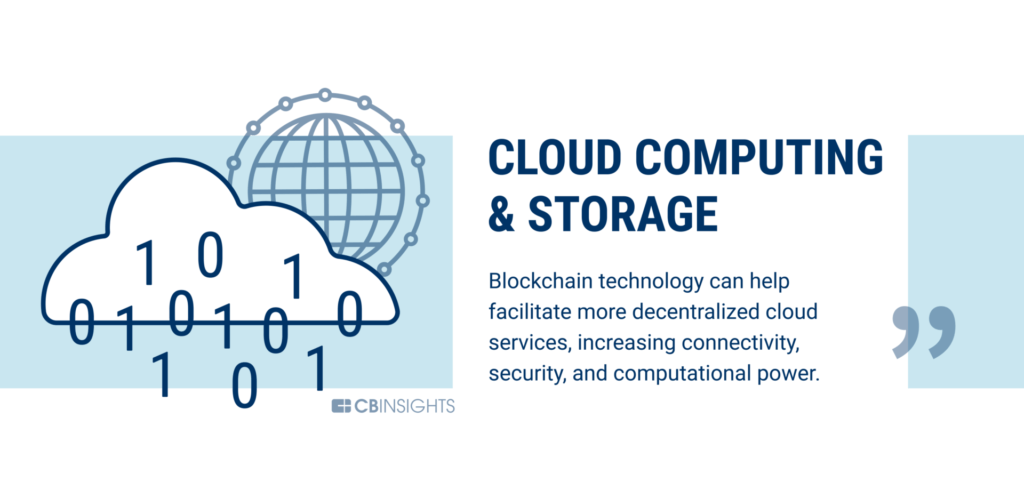 Cloud services require vast computational resources and data storage capacity, which can be inefficient when it comes to launching IoT products. Blockchain technology can help facilitate more decentralized cloud services, increasing connectivity, security, and computational power.
For example, Salesforce, which provides cloud solutions for businesses, has launched Salesforce Blockchain. The product builds on the CRM software Salesforce is known for with smart contracts and blockchain-based data sharing.
Enterprises that offer cloud storage often secure customers' data in a centralized server, which can mean increased network vulnerability from attacks by hackers. Blockchain cloud storage solutions allow storage to be decentralized — and therefore less prone to attacks that can cause systemic damage and widespread data loss.
Dubbed the "Airbnb for file storage," Filecoin is a high-profile crypto project that rewards the hosting of files. This could help create a decentralized version of S3 from Amazon Web Services.
The company behind it, Protocol Labs, has garnered investment from Union Square Ventures, Naval Ravikant, and the Winklevosses, among a number of prominent names. But Filecoin is just one of many projects in this area, and other token names in storage include Storj and Siacoin.
Storj offers a blockchain-enabled cloud storage network to improve security and lower the transaction costs of storing information in the cloud. Storj users can also rent out their unused digital storage space in a peer-to-peer manner, potentially creating a new market for crowdsourced cloud storage capacity.
IBM offers a blockchain-enabled identity management tool called IBM Verify Credentials. The decentralized system allows certain trusted organizations to issue credentials to users, who can then use the credentials to prove their identities to other organizations, enhancing personal privacy and streamlining the verification process.
---
INTERNET ADVERTISING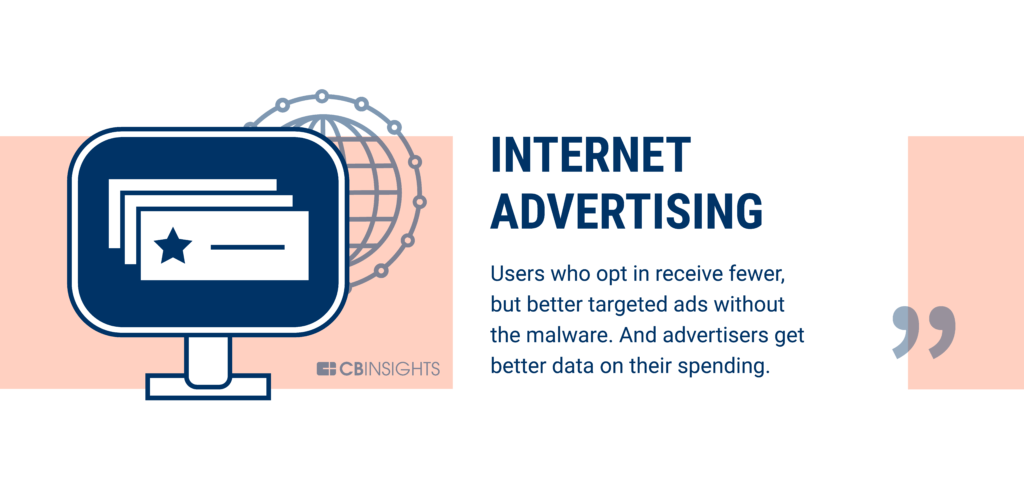 The internet as we know it emerged with ad hoc solutions for advertising. In aggregate, ads add tons of mobile data usage to loading web pages, and both advertisers and consumers suffer from any lack of protocols.
In 2017, Brave crowdfunded $35M in 30 seconds during its Basic Attention Token (BAT) ICO, geared toward compensating advertisers and users. Instead of using a middleman like Google or Facebook's ad arm, advertisers will list directly onto Brave's blockchain-based browser. Users who opt in receive fewer, but better targeted ads without the malware. And advertisers get better data on their spending.
Lead generation platform Snovio is another option that lets people sell their personal data and gain SNOV tokens.
---
FORECASTING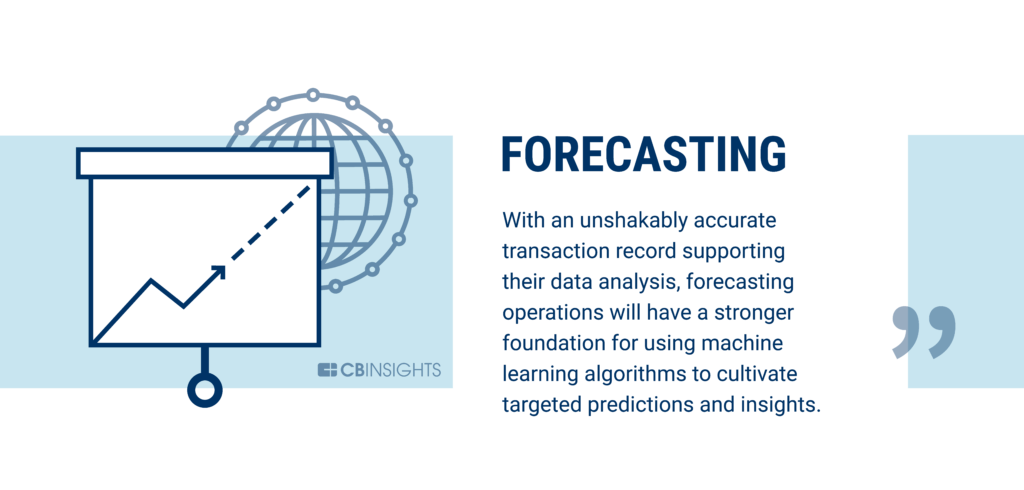 As more industries embrace blockchain in a holistic way, the research, analysis, consulting, and forecasting industries could also be shaken up by the technology: with an unshakably accurate transaction record supporting their data analysis, forecasting operations will have a stronger foundation for using machine learning algorithms to cultivate targeted predictions and insights.
Even now, blockchain is creating new a new "predictions market." Augur, built on the Ethereum blockchain, allows users to forecast events and be rewarded for predicting them correctly.
---
CANNABIS
After legalization of marijuana in Canada, and growing support for legalization across the US, the cannabis industry is reaping big investments in tech and research.
The legalized cannabis industry is likely to be tightly regulated and could benefit from a transparent and secure system for tracking production and distribution. Blockchain technology could provide a record of product movement from farm to dispensary, helping to boost safety and regulatory compliance.
Mile High Labs, a producer and supplier of CBD products, partnered with Chain.io to create a blockchain-tracked supply chain for the cannabis industry. Beyond supply chains, Mile High Labs is also interested in using the ledger technology for regulation and compliance.
IBM has also proposed blockchain technology as a way for governments to control the source and sale of cannabis.
---
CHARITY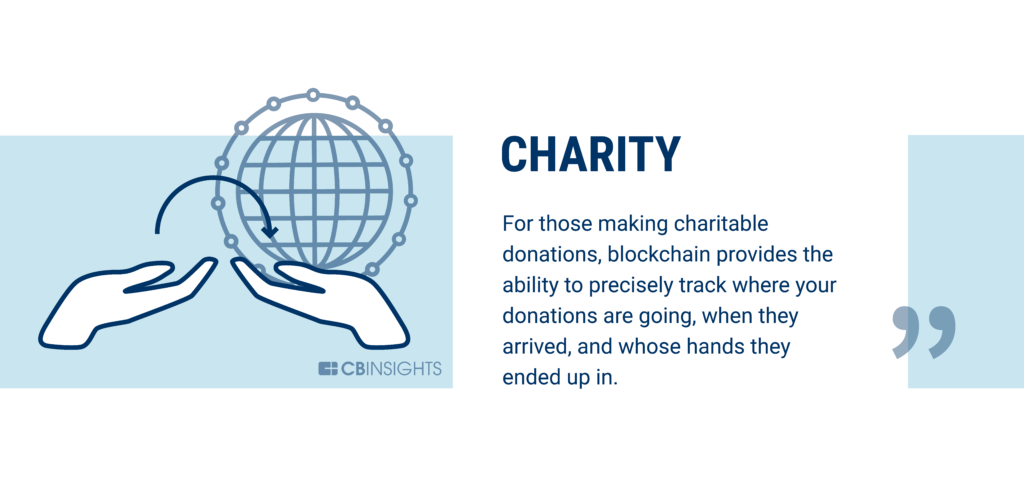 For those making charitable donations, blockchain provides the ability to precisely track where your donations are going, when they arrived, and whose hands they ended up in.
From there, blockchain can deliver the accountability and transparency to address the perennial complaints around charitable donations — including the organizational inefficiency (or even financial misconduct) that can prevent money from reaching those it was meant for.
Bitcoin-based charities like the BitGive Foundation use a secure and transparent distributed ledger to give donors greater visibility into fund receipt and use.
The company has also launched GiveTrack, a blockchain-based multidimensional donation platform that provides the ability to transfer, track, and provide a permanent record of charitable financial transactions across the globe. By leveraging GiveTrack, charities can drive stronger trust with donors.
The post Banking Is Only The Beginning: 58 Big Industries Blockchain Could Transform appeared first on CB Insights Research.